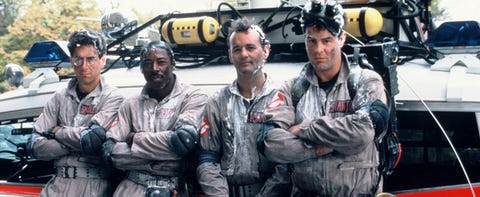 If we abandon the police what will we have left?  The Ghostbusters?  I mean it was a cute movie and all; but, seriously, we need the police.  The police make us feel safe at night when we go to bed.  We're not sure why, we just feel safe.  They are always a 9-1-1 call away.
If we de-fund them, which is farcical to even write, we will have no one to call. We'll have to call a neighbor, relative, or friend and none of them will come armed for bear.
So let's stop indulging the left as THIS is nonsensical. Even FOX News is indulging them like it is a real thing.  It is not an idea. It won't happen.  It is just the left being "stupid" again.  We can hardly take anymore of their stupid ideas.  Remember their last one "impeachment" and look how that turned out. We don't have to capitulate any longer as they have been proven "stupid" time and time again.  They should have STUPID written on their foreheads.
Oh, they do!
STOP REPORTING ABOUT DEFUNDING THE POLICE! 
IGNORE THE LEFT'S LATEST GIBBERISH!